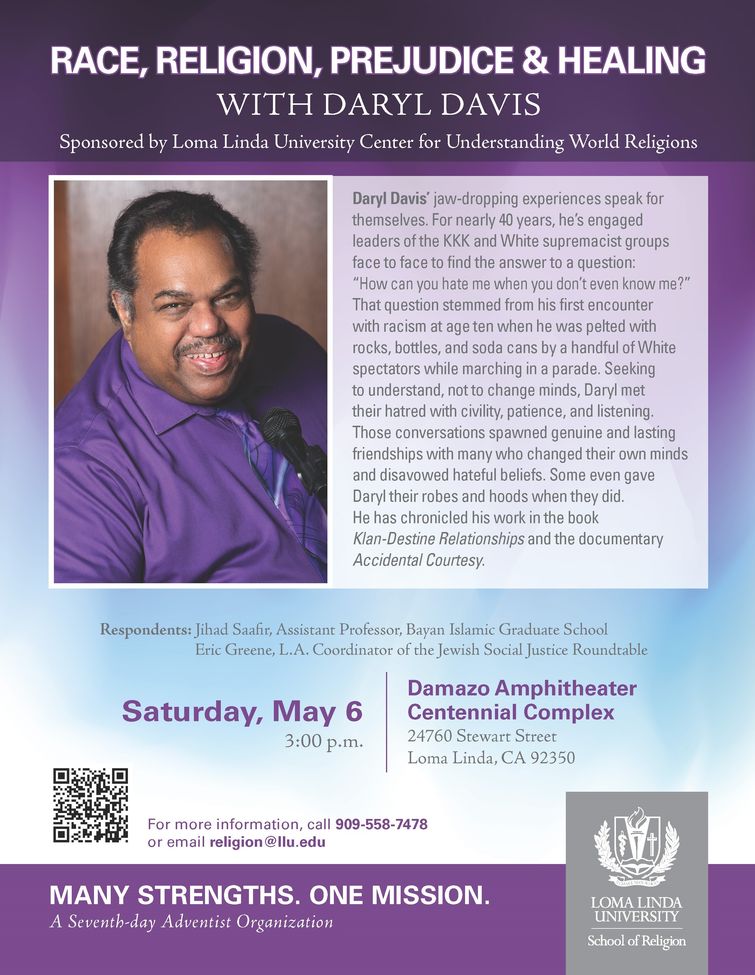 The Center for Understanding World Religions at Loma Linda University presents "Religion, Race, Prejudice & Healing," an event to foster learning, dialogue and peace-building.
Leading the conversation is renowned musician, author, conflict navigator, compelling unifier and Klan whisperer, Daryl Davis. For 40 years, Mr. Davis has engaged leaders of the Ku Klux Klan and White supremacist groups face-to-face in search of the answer to his question: "How can you hate me when you don't even know me?"—a question that has stirred in him since his first encounter with racism at the age of 10.
Mr. Davis is a professional musician and graduate of Howard University with a Bachelor of Music degree. He's played with the likes of Chuck Berry, Elvis Presley's Jordanaires, Jerry Lee Lewis, The Platters, Bo Diddley and Percy Sledge, to name a few. Mr. Davis also holds an Honorary Doctorate in Humane Letters from Post University for the work he's done in the field of race relations.
While music is his profession, improving race relations is his obsession, and his work is chronicled in his highly-acclaimed book, Klan-Destine Relationships, as well as the award-winning documentary, Accidental Courtesy. Notably, Mr. Davis was the first Black author to write a book on the Klan from in-person interviews.
Loma Linda University Health is honored to host Mr. Davis, who has been to 57 countries on 6 continents sharing his expertise on race relations and conflict, and his TEDx talk has more than 12 million views.
Along with African-Americans, religious minorities have also been targeted by the Klan and other extremist groups. To include religion in its examination of prejudice and healing, the Center has invited a person from each of the Jewish and Muslim faiths to reflect on their own experience of prejudice and to share some of the ways in which their traditions have been involved in the work of reconciliation and healing. Respondents include Jihad Saafir, Assistant Professor, Bayan Islamic Graduate School, and Eric Greene, L.A. Coordinator of the Jewish Social Justice Roundtable.
In the wake of these conversations, Christians in this country are invited to reflect on how a country, whose founders aspired to implement the Christian principles of liberty, justice and equality, could so often fall short of these goals. Therefore, following the keynote address and the two responses, a panel discussion will continue the conversation, and time will be set aside for Q & A between the audience and the presenters.