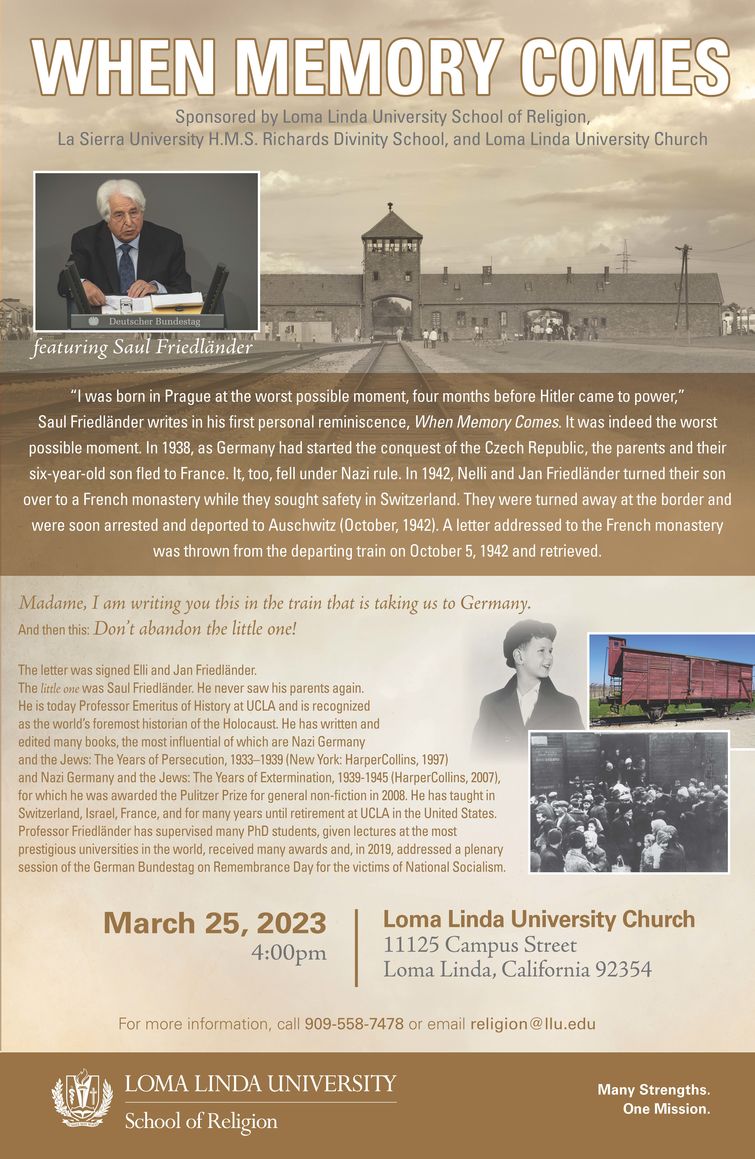 "I was born in Prague at the worst possible moment, four months before Hitler came to power," Saul Friedländer writes in his first personal reminiscence, When Memory Comes. It was indeed the worst possible moment. In 1938, as Germany had started the conquest of the Czech Republic, the parents and their six-year-old son fled to France. It, too, fell under Nazi rule. In 1942, Nelli and Jan Friedländer turned their son over to a French monastery while they sought safety in Switzerland. They were turned away at the border and were soon arrested and deported to Auschwitz (October, 1942). A letter addressed to the French monastery was thrown from the departing train on October 5, 1942 and retrieved.
Madame, I am writing you this in the train that is taking us to Germany. And then this: Don't abandon the little one! The letter was signed Elli and Jan Friedländer.
The little one was Saul Friedländer. He never saw his parents again. He is today Professor Emeritus of History at UCLA and is recognized as the world's foremost historian of the Holocaust. He has written and edited many books, the most influential of which are Nazi Germany and the Jews: The Years of Persecution, 1933–1939 (New York: HarperCollins, 1997) and Nazi Germany and the Jews: The Years of Extermination, 1939-1945 (HarperCollins, 2007), for which he was awarded the Pulitzer Prize for general non-fiction in 2008. He has taught in Switzerland, Israel, France, and for many years until retirement at UCLA in the United States. Professor Friedländer has supervised many PhD students, given lectures at the most prestigious universities in the world, received many awards and, in 2019, addressed a plenary session of the German Bundestag on Remembrance Day for the victims of National Socialism.
Sponsored by Loma Linda University School of Religion, La Sierra University H.M.S Richards Divinity School, and Loma Linda University Church