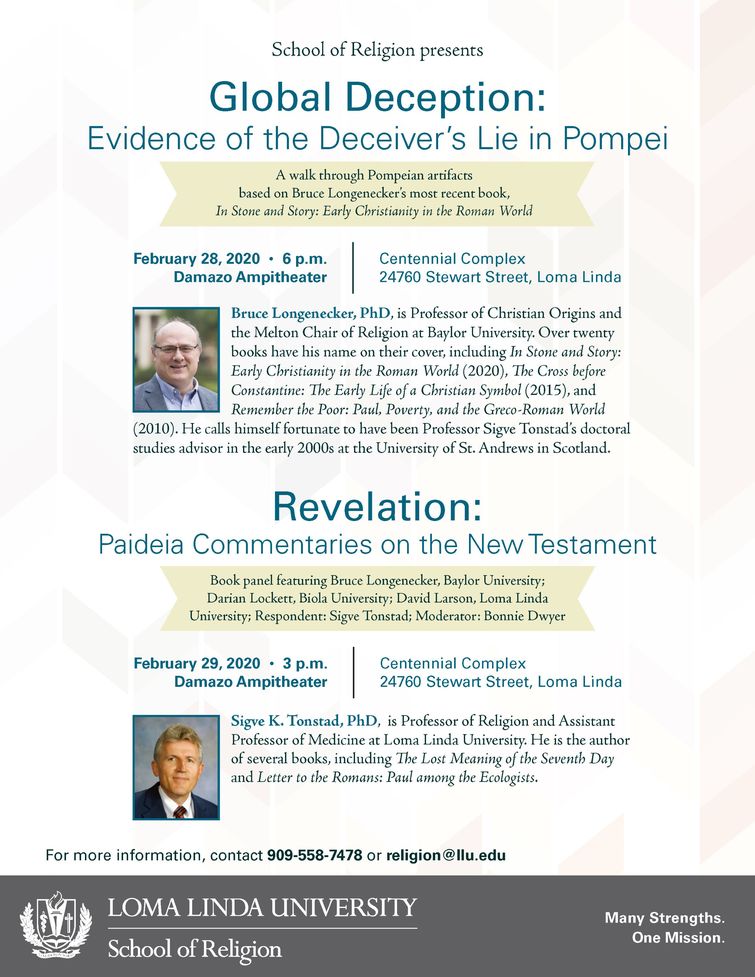 February 28 at 6pm
Global Deception: Evidence of the Deceiver's Lie in Pompei
A walk through Pompeian artifacts based on Bruce Longenecker's most recent book, In Stone and Story: Early Christianity in the Roman World
Bio: Bruce Longenecker, PhD, is Professor of Christian Origins and the Melton Chair of Religion at Baylor University. Over twenty books have his name on their cover, including In Stone and Story: Early Christianity in the Roman World (2020), The Cross before Constantine: The Early Life of a Christian Symbol (2015), and Remember the Poor: Paul, Poverty, and the Greco-Roman World (2010). He calls himself fortunate to have been Professor Sigve Tonstad's doctoral studies advisor in the early 2000s at the University of St. Andrews in Scotland.
February 29 at 3pm
Revelation: Paideia Commentaries on the New Testament
Book panel featuring Bruce Longenecker, Baylor University; Darian Lockett, Biola University; David Larson, Loma Linda University; Respondent: Sigve Tonstad; Moderator: Bonnie Dwyer
Bio: Sigve K. Tonstad, PhD, is Professor of Religion and Assistant Professor of Medicine at Loma Linda University. He is the author of several books, including The Lost Meaning of the Seventh Day and Letter to the Romans: Paul among the Ecologists.
Both events will be presented in Damazo Amphitheater, Centennial Complex (24760 Stewart St., Loma Linda, CA). For more information, contact 909-558-7478 or religion@llu.edu