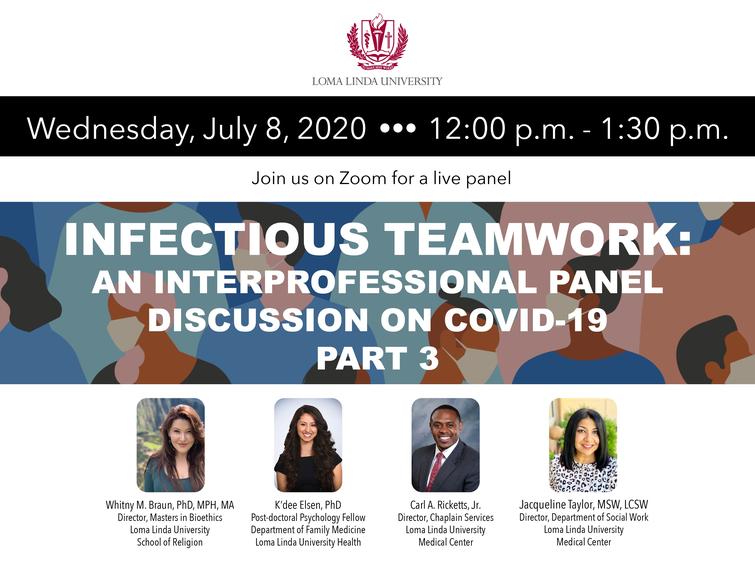 We invite you to join us for a very exciting online, interprofessional event regarding COVID-19.
Infectious Teamwork: An interprofessional panel discussion on COVID-19, Part 3
Wednesday, July 8, 2020
12:00 p.m. – 1:30 p.m.
The COVID-19 Pandemic is teaching us all lots of new lessons, some of which we didn't even know we needed to learn! One thing we've learned is that how healthcare professionals work together may be different on the front lines during a pandemic. To that end, the Center for Interprofessional Education and Practice (CIPEP) is pleased to offer an engaging panel presentation of front-line healthcare providers once again: "Infectious Teamwork: Interprofessional Panel Discussion on COVID-19: Part 3" Wednesday, July 8, 2020. This will be a fascinating look into the lives of some of our own colleagues and how they are working together in new ways through the pandemic. Your colleagues and students will not want to miss this credible and candid discussion. Please join us via the Zoom link below.
Zoom invitation:
https://llu.zoom.us/j/97048644474?pwd=ZkVJR0RoK0dPUjhKODVSdHhYOGVydz09
Meeting ID: 970 4864 4474
Password: 961398
For additional questions and details, please email cipep@llu.edu.