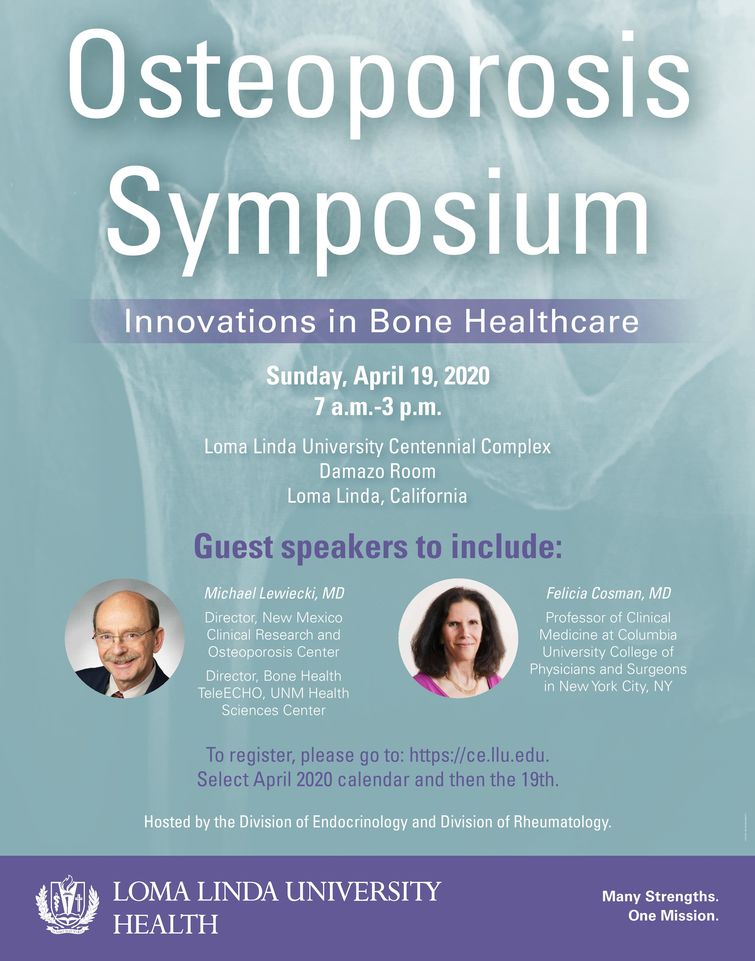 Out of extra precaution, Loma Linda University Health has made the difficult decision to cancel our events on our campus until June 1, 2020, or until further notice. While exposure risk may be low, we wish to avoid any chance, however small, of our community being exposed.
Please view our events calendar page for the latest updates. The situation with the COVID-19 is changing on a daily basis. For reliable information regarding the virus, please visit the CDC and LLUH.org/coronavirus web pages.
The challenges in the diagnosis and treatment of osteoporosis within our institution and worldwide are increasingly being recognized. A study has shown that from 2015 to 2017, a total of 162 patients with fragility fractures of the hip and vertebrae were admitted to our institution. Of these, 138 (85%) had no prior bone densitometry done and 139 patients (86%) were not offered osteoporosis treatment after the fracture. In response to this critical shortfall, a collaborative effort among the departments of Rheumatology, Endocrinology, Orthopedics, and Geriatrics was undertaken to establish a Fracture Liaison Service, a preventive care model to improve patients' transition of care to appropriate outpatient osteoporosis specialists and to enable primary care physician empowerment. We hope to make headway toward eliminating the osteoporosis care gap. As part of this effort, we are holding an Osteoporosis Symposium on April 19, 2020, entitled "Osteoporosis Symposium 2020: Innovations in Bone Healthcare," with the goal of educating primary care providers on the importance of bone health and providing fresh perspectives on current therapies and algorithms for certain patient populations and upcoming therapy options for osteoporosis.
Objectives:
Upon completion of this symposium, the participant will be able to:
1. Elaborate on the risk factors that lead to higher prevalence and incidence of osteoporosis and fractures.
2. Discuss the pros and cons of current treatment and screening guidelines for osteoporosis.
3. Analyze and implement proper treatment strategies for osteoporosis