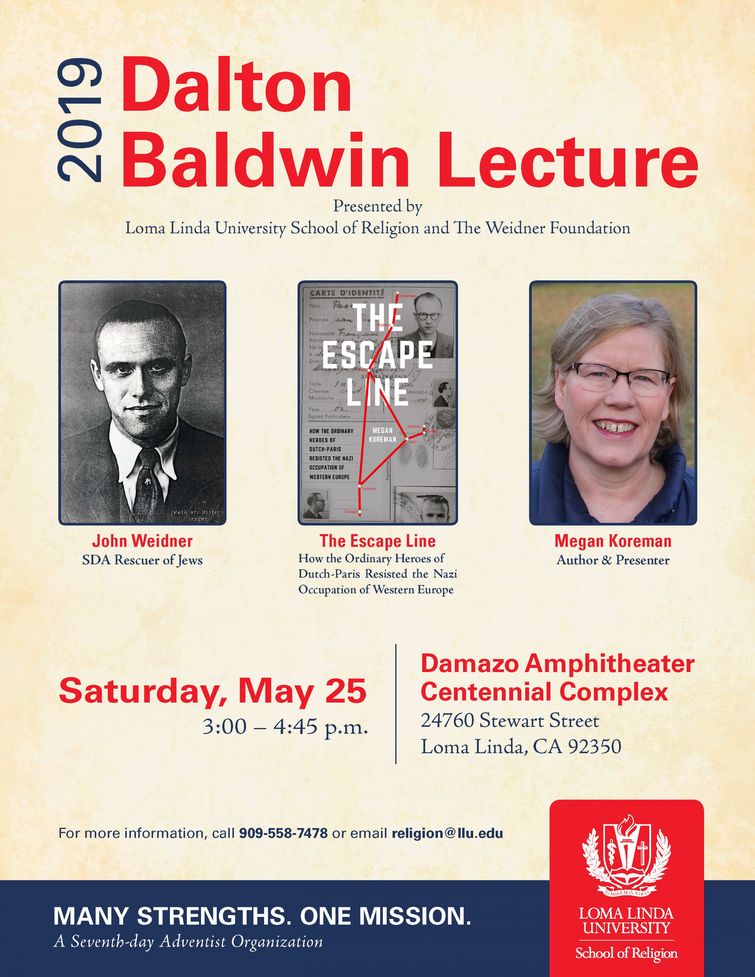 Date: May 25
Time: 3:00pm
Title: Annual Dalton Baldwin Lecture featuring Megan Koreman
Location: Damazo Amphitheater, Centennial Complex, 24760 Stewart St. Loma Linda
Description:
The annual Dalton Baldwin Lecture will be held on Sabbath, May 25, 2019 at 3:00 p.m. in Damazo Amphitheater (24760 Stewart St. Loma Linda). Author Megan Koreman will be presenting on her book, The Escape Line, and John Weidner, SDA rescuer of Jews.
About Megan Koreman
Megan Koreman is an independent historian who lives and works in Royal Oak, Michigan, She attended the University of Notre Dame and earned her doctorate in history at the University of California at Berkeley.  She has taught European history at Texas Tech University and the University of Michigan. Her first book, The Expectation of Justice, is about three French communities during the Liberation, 1944-1946. She spent nine years researching and writing The Escape Line which was published this spring by Oxford University Press.  Her research in 31 archives in seven countries was funded by The John Henry Weidner Foundation.  She has been interested in the Second World War Resistance since she visited her father's home town of Maastricht, the Netherlands, as a little girl. Her uncle's stories about how he and her aunt had been part of the local resistance during the war sparked a lifelong interest in the civilian experience of WWII.
About John Weidner
The son of a Dutch minister, John (Jean) Weidner (1912-1994) founded the "Dutch-Paris Line" in 1942 to help Jews, downed Allied pilots, and other persecuted people escape from Nazi-occupied Europe through Spain and Switzerland.  An experienced mountain climber, Weidner at first personally guided fleeing refugees and asylum seekers down treacherous cliffs in the French-Swiss Alps.  As the rescue operation grew, he developed new alliances and better methods of helping refugees escape to safety.  Weidner used his textile business based in France as a front for his rescue work.  Criss-crossing several countries using false identity papers, he kept the underground network running in the face of mounting danger.  Weidner became a marked man, with the Gestapo placing a price on his head.  He was captured by French paramilitary collaborators but managed to escape by jumping from the window of a three-story building and continued his rescue work at great risk until the end of the war.  After the Liberation, Weidner served as a Captain of the Dutch Armed Forces charged with investigating cases of Dutch and French collaboration with the Nazis.  He later emigrated to the United States and settled in California, where he opened a chain of health food stores.  Weidner is honored as one of the Righteous Among the Nations at Israel's Holocaust Memorial, Yad Vashem.  He was awarded the highest civilian awards of several countries, including the French Legion of Honor and the United States Medal of Freedom.  Weidner became the most decorated Dutchman of World War II.
Presented by LLU School of Religion and The Weidner Foundation. For more information, please call 909-558-7478 or email religion@llu.edu